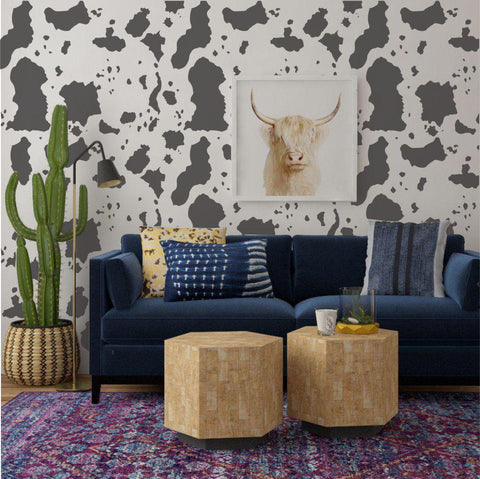 Small Cowhide Print Wall and Floor Stencil

Pin It You can use this large-format Cow Print Wall and Floor stencil design to paint all over your wall, Floor, upholstery, pillows, even on a scrapbook as a background. Quickly and easily create a stylish and chic ambience anywhere in or outside your home! You can place your order online right now or call us today - our operators are standing by at (800) 334-1776!

Contains: 1 - 19.5" x 19.5" Stencil Sheet
Actual Size: 14.6" high x 17.9" wide (for single repeat only) This Small Cowhide Print stencil design was painted using the following 2 oz. Acrylic stencil paint color:
MDA02063 Burnt Sienna (use foam roller)

Complete kit comes with stencil, 6 bottles of the paint, and one T7604 4 inch Foam Roller


We now have Production stencils with more repeats on 1 stencil (4 repeats shown left) order SPS2008-4 or SPS2008-8 (for 8 repeats) below

The 4 and 8 repeat stencils are non-returnable and all sales are final.