Zebra Print Wall and Floor Stencils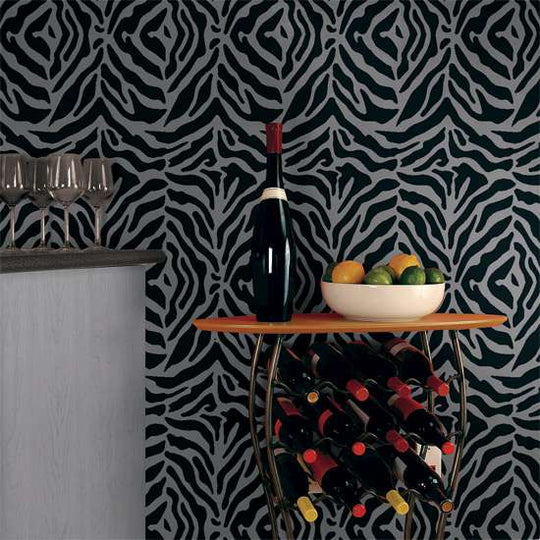 Pin It Actual size: 16.75 high x 18" wide on a 19.5" x 19.5" plastic stencil sheet - production sizes also available.

Use this Zebra Print Wall and Floor stencil design to paint all over your wall, Floor, upholstery, pillows, even on a scrapbook as a background. This detailed, laser-cut stencil is a professional designer's dream along with our production size stencils with additional repeats for the painting team. Our laser-cutting produces crisp, clean smooth edges. We suggest you visit your local paint store for color ideas using contrasting colors or even trying a semi-gloss urethane (over a previously painted/stained surface) for a subtle effect.
---
Complete Kit Contains:


1

SWP0067 Zebra Print
Wall & Floor stencil - 19.5" x 19.5" stencil sheet

1

T7602 2" High-density Foam Roller w/ 8" handle

1

MDA08067 Black (8 oz. bottle) mixed w/ glaze (glaze is available at your local paint store).
---
Production stencils are available
with more repeats on 1 stencil
(4 repeats shown left) order
below. Production stencils
are non-returnable and
all sales are final.
---