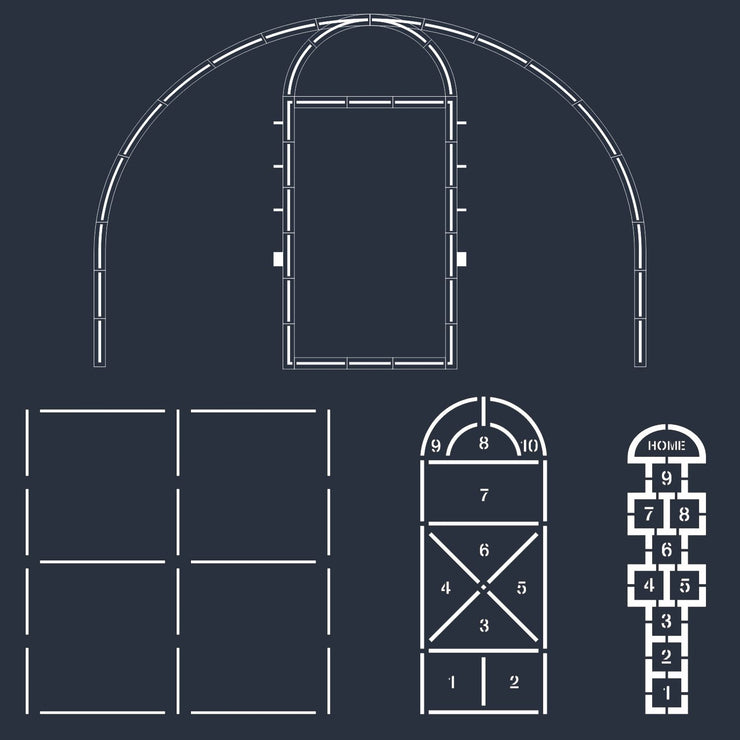 Playground Stencil Painting Kit

FREE SHIPPING

The Stencil Ease Playground stencil kit comes with everything needed to finish a school playground. These playground stencils are made from durable, reusable 60-mil (1/16 inch thick) plastic. They can be cleaned and reused many times and each stencil in this kit typically includes 4 inches of extra material for prevention of overspray.
All stencils in this kit are suitable for any pavement, ashphalt or blacktop stencil project.
We suggest using inverted spray marking paints or traffic paints for parking lot and road applications. These sprays can be found in any hardware store.
The Playground stencil kit contains the following items:
1) Basketball Court Stencil Set on 60 mil material (CC0306-60)
2) Four-Square Stencil Set on 60 mil material (CC0301A192-60)
3) Standard Hopscotch Stencil on 14 mil material (CC0300-14)
4) Curved Hopscotch Stencil on 14 mil material (CC0307-14)
5) 12 inch Number Set on 60 mil material (CCN0071M-PGK-60)