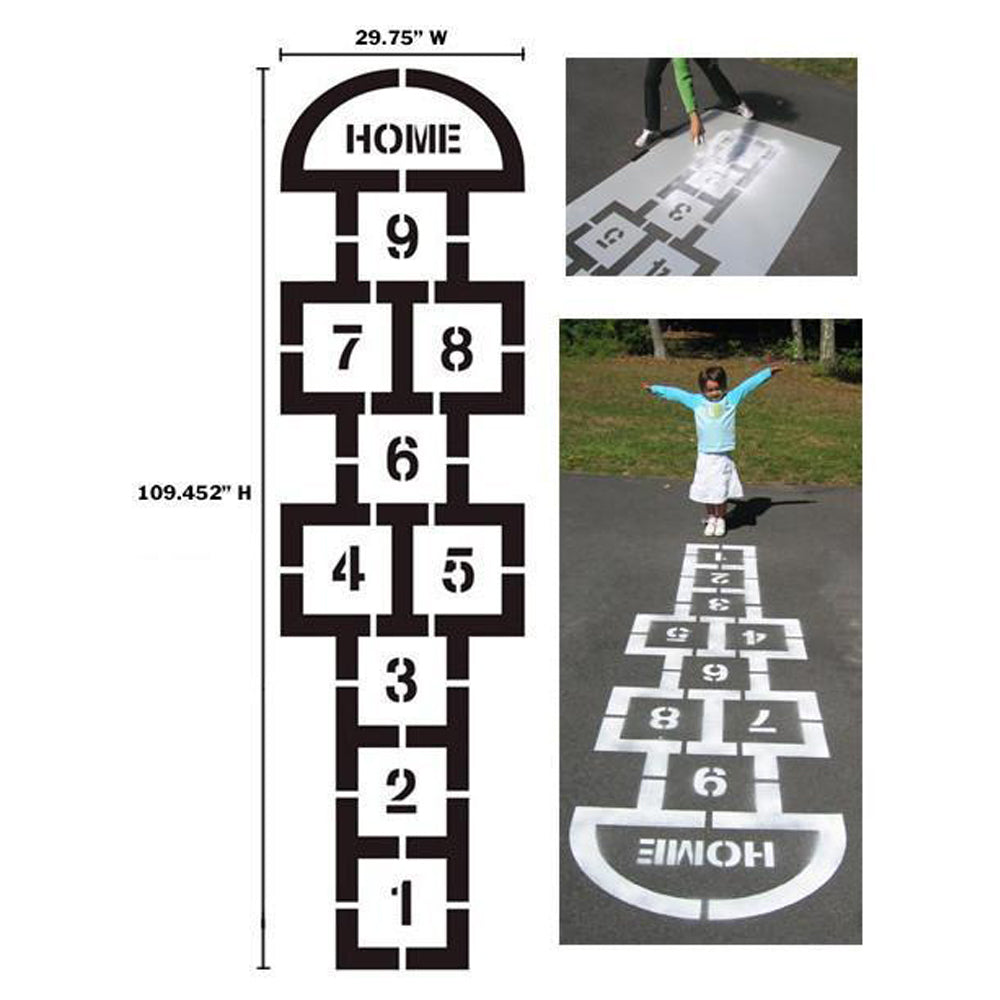 Hopscotch is a timeless and beneficial active children's game
Our Hopscotch stencil creates a fun and timeless childhood game this is a must for every playground and school.  Hopscotch is a great way for children to develop balance, physical coordination, and cognitive development. Balancing on one foot, hopping, bending over on one foot to pick up the marker are great development exercises for young children. 
Two Sizes of Hopscotch Stencils
We have two sizes for our hopscotch stencil. Our standard hopscotch stencil is perfect for younger children with smaller squares roughly 13 inches wide. 
The new larger stencil provides more challenge for older children with squares 19 inches per side. 
Easy to Use Hopscotch Stencils
Our Hopscotch stencils are designed to be easy to install.
The small stencil is contained on a single piece.  Simply unroll the stencil, place in position.   
The larger stencil comes in two pieces but is still very easy to place.
Premium Quality Hopscotch Stencils
All of our stencils are precision cut by CNC Laser cutters providing precise and cleanly cut stencils.
We offer the stencils in 10 mil mylar which is both inexpensive and perfect for DIY'ers.  10 mil mylar is perfect for rolling and spraying. It can be used multiple times. 
We also offer the product in 60 mil LLDPE which is perfect for professional painters It can be used many times and is perfect for use with spray painting equipment.
Please see our multiple styles of hopscotch stencils.  We have in addition the basic Square 10 design, English-inspired JukeBox Hopscotch stencil, and the Dinosaur stencil.  As well we have many other wonderful active playground stencils to keep our children active, healthy and happy.  
If you need a size that is not listed please call us at 1-844-456-3273 or email [email protected]