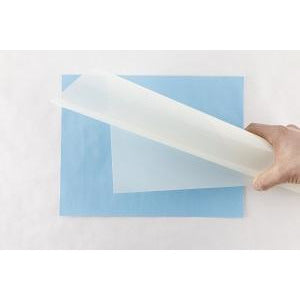 6 mil Blank Mylar sheets
Have a product question?
Ask us
Our 6-mil blank mylar material is the great choice for a DIY stencil. This the best stencil material for Cricut Cutters. This material is both easy to cut yourself and still durable enough to make a great stencil.
Available in 12 inch x 12 inch or 12 inch x 17.5 inch sheets,
How To Cut: our 6 mil material cuts easily with a scalpel knives. We recommend our Gyro-cutter. It is the best material for electric cutters like a Cricut, Silhouette or similar products. (Thicker material is not consistently cut by this type of cutter.) It is easy to cut and transparent enough so that it is easy to trace cut from a picture under the material. From interior decorating to logos and crests, to face painting, to small industrial projects, it's as easy as drawing your design on, cutting, and painting on any surface you like!
This mylar is a hazy material specifically engineered for easy cutting with a pen or exacto knife. With a material this thin, any design you come up with will produce crisp lines that pop right out off of your surface. We recommend brushing or rolling your paint on with this material for optimum line definition.
Great for arts and crafts, custom lettering, signs, designs, and more. Make sure your stencil is cut with adequate bracing, and leave room on the edges for excess paint. Easy to clean? You bet. Just add a little soap and water or paint remover to the stencil material and watch as the paint comes right off.
This light mylar will make your life so easy, you'll feel like you're not even trying. When you're finished cutting, stick your stencil on with our adhesive spray (sold separately) for easy management - this will both make the process easier for you and produce a cleaner paint job.