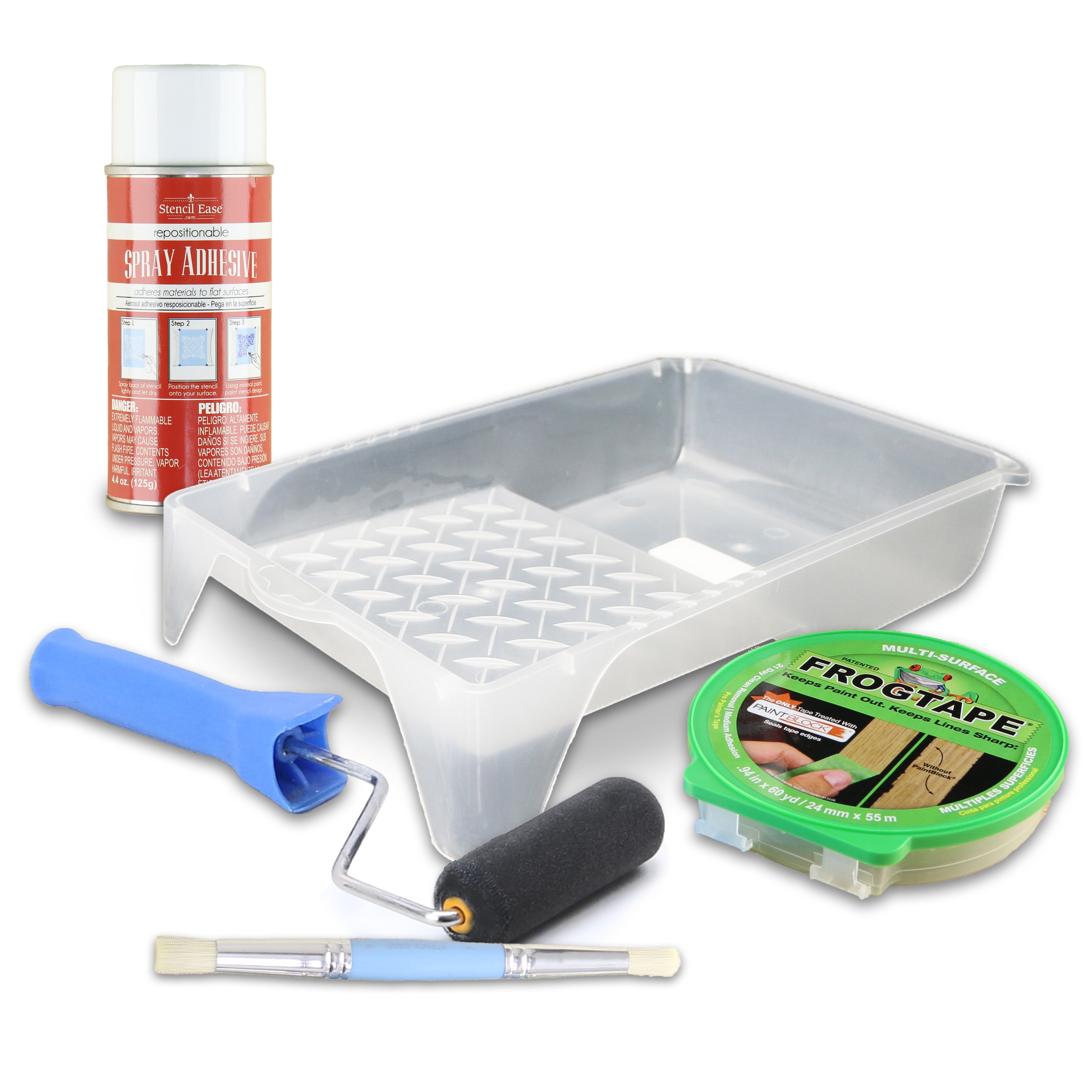 Sign Stenciling Tool Kit | Value Bundle
You made a Custom Sign Stencil or selected one of our easy-to-use Sign Stencils and its time to get the job done.

The Sign Stenciling Tool Kit has everything you need to get clear results fast.
We want your stenciling to be successful and we strongly recommend this Tool Kit. Get the job done and save 40% off our MSRP.

Stenciling Tool Kit Includes:
What is the best way to put a stencil on a wall?
With Repositionable Adhesive Spray you can quickly make the stencil work like a Post-It note. Apply the spray on the back of the stencil and let it dry, the stencil can be placed on the wall. It will easily hold all mylars and will neither leave any residue on the wall nor pull up the paint. While aligning this is a real benefit as you can place a check and then adjust without fuss or reapplying adhesive. If stenciling multiple times you can pick up the stencil move and start again. The spray can also keep thin bits of the stencil from moving during brushing and can reduce NOT ELIMINATE the possibility of bleed. We always recommend dry brushing technique.

Once the stencil is in the correct place. Add some insurance with Frog Tape painters tape.
How do you use Painters Tape for Stenciling?
We recommend using Frog Tape. This painter's tape is really good at both holding AND will not damage the walls or leave a residue. Generic painters tape has caused some wailing and gnashing of teeth and we will just not take that risk,
Painter's tape is great for
Holding stencils in place during the painting
Using as reference marks ( apply to wall and mark with a pen or pencil Remove when done.
Masking areas that you do not want to paint such as areas on edges or when you want to stencil with two colors.
How to paint with Stencils?
There are many ways but for signs and larger projects there are three ways
Spray: Spray either aerosol or with a machine can work really well but is tough to do indoors and always is messy. So we only do it outside. For most signs we recommend a combination of brush and roller.
When to use a paint roller for stenciling?

Rollers are very good for large areas. You can stencil faster with a paint roller. It can hold more paint and it covers more area. We carry a 2 and 4-inch roller as these are somewhat harder to find. Always use high density foam as the roller material which will help control the amount of paint and use a dry rolling technique.
Paint rollers do not get small corners or piont well and that is where a Stencil Bursh comes in. it is perfect for applying in smaller openings.
A combination of the two items is perfect for most signs.