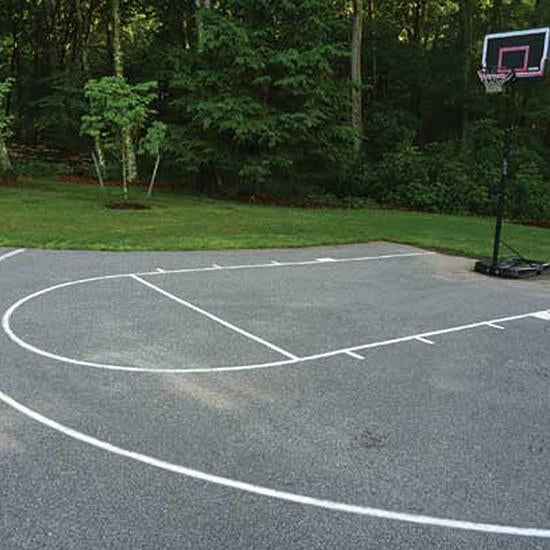 NCAA Basketball Court Stencil
Our New Basketball Court Stencil Kit is perfect for contractors and DIY'ers alike. It is easy to set up. With only 28 pieces, 33% less then our original design, it is simple to place and get the lines square and straight. Can be used hundreds of times and makes the perfect regulation court.
Have the New NCAA 3 Point Line:
The NCAA has decided to move the 3 point line back to 22 ft 1 3/4 inches from the center of the basket for Division 1 Men's Basketball. So we offer this stencils in various versions:
Basketball key alone, without a 3 pt line.
Basketball Key with the new 3 point line 22 feet 1.75 inches from the center of the basket for all NCAA basketball Men's and Women's starting in the 2021-2022 season. It is also the distance for the WNBA and in International (FIBA) play.
3 Point Line only at the 22ft 1.75 inches

for Division I Men's division.
Our Basketball stencil is made to last:
The Stencil Ease basketball court is available in our thick 1/16" (60-mil) or 1/8" (125-mil), heavy-duty reusable plastic industrial material. These are not cheap cardboard stencils or those made out garbage bag vinyl. The 1/16" and 1/8" materials are designed to lay flat, will not blow away. More importantly, they will stay straight and square so that your basketball court is perfect. These stencils are specifically used for marking concrete, pavement or gym floor. With these stencils and our over-spray box (comes with the kit), Your basketball court will paint out with crisp, clean lines every time. This stencil kit will last for years and can be used hundreds of time with little to no maintenance.
This kit ships with a detailed map, a layout guide and a Basketball Court drawing with NCAA specifications showing all dimensions and court measurements (also available as a PDF below). This kit will use approximately 2 cans of spray paint.

All of our stencils are made from LLDPE. This material is extremely durable, will relax and lay flat quickly, and is very easy to clean. The 1/8th inch is preferred by contractors and is more rigid then the 1/16th inch. The 1/16th is excellent for less frequent use. Both can be used and cleaned hundreds of times.
---
**MATERIAL TIP**

1/16" (60 mil) or 1/8" (125 mil) MATERIAL


1/16" (60-mil) or 1/8" (125-mil) material should be used if you are using spray paints or spray equipment.

**APPLICATION TIP**

Don't want the lines to have gaps or breaks? After you paint the court, simply slide the stencil into a different position over the lines you've already applied and spray.