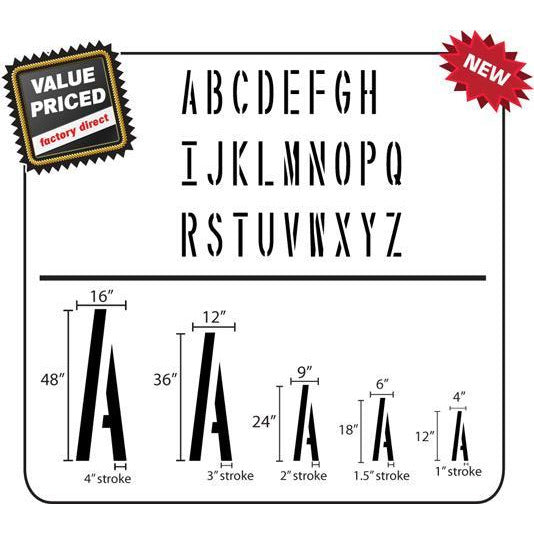 Block Style Number and Letter Stencil Sets
Our durable block style number and Letter Stencil Sets offer a true value for anyone looking to spray paint parking lots, pavement or anywhere traffic control is needed.
Number Sets 10 Pieces: Numbers 0-9

Letter Sets 26 Pieces: Letters A-Z
These value sets are only sold on our 1/8" (125-mil) or 1/16" (60-mil) thick LLDPE plastic material. There is no tougher material on the market for pavement stenciling. These number stencils lay flat, shed paint and can be reused for years. If you are a paving contractor or line striper and keep stencils for years, we suggest you order the 1/8" material.
Note: The larger the character, the more the need for thicker material.
The graphic illustrates the size and stroke for the common number sizes 12"-48". The actual stencil sheet is always larger than the dimensions shown to prevent unwanted overspray.
Click here for more material information.
If you need to customize a letter set, click here.