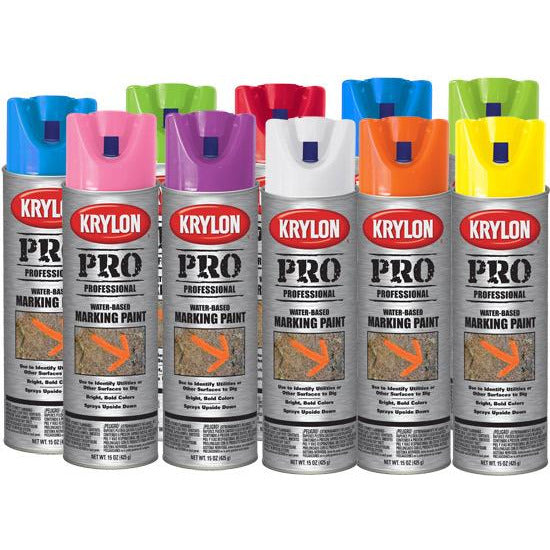 Krylon Pro Marking Spray Paint
We now offer an industrial marking paint program along with our pavement marking stencils. The Krylon "Contractor" 15 oz. can is an inverted spray paint that meets specifications for any stenciling job, utility marking, construction site or public works project. Water-Based Inverted Marking Paints have a high solids formulation that gives them the boldest, brightest and most visible markings in the industry. These fast-drying products penetrate and adhere to all surfaces, and deliver coverage you can count on for all of your marking, surveying and stenciling needs. NOTE: Cover-Up Black item is a solvent-based spray.
VOC compliant
Free of lead hazards
Convenient Spray Thru cap
Check out our large selection of marking paint! We have many of the marking supplies you need for stenciling pavement, athletic fields, surveying, excavation sites, construction and more. We offer water-based marking paint at competitive prices. Krylon inverted marking paint is fast-drying and adheres to hot, cold or wet surfaces. We also carry accessories including marking wands and spray paint handles. Order marking paint online or call 1-800-334-1776 today!
Browse our wide variety of marking paint and stencils available only at stencilease.com. We carry APWA marking paint colors and many fluorescent colors for any size job. Our selection of inverted marking paint is great to mark gas, petroleum, oil, roads, water, electrical, sewers, storm drains, phone and conduit lines, future excavation sites and temporary survey markings. We feature Krylon brand for quality and performance. All of our inverted marking paint is easy to use upside down.
Note: Free shipping only applies to Spray paints for orders with a total of $250 or more. No returns for all aerosols and spray paints.
Item

Inverted Marking Paint – Water Based

Type

Aerosol Spray

Size

15 oz.

Net Weight (Oz.)

15

Color

See Below

Coverage

300 Linear Ft. @ 2" Stripe
150 Linear Ft. @ 4" Stripe
75 Linear Ft. @ 6" Stripe

Dry Time Tack Free (Min.)

Less Than 5min

Dry Time (Minutes)

Less Than 5min

Dry Time (Hours)

1 to 2

Dry Time Recoat (Hours)

2 to 5

Application Temperature (F)

Above 32DF

Application Method

Marking Wand

Surface

For Pavement, Concrete, Gravel, Grass

Exposure Conditions

Mild to Moderate

Standards

VOC and MIR Compliant