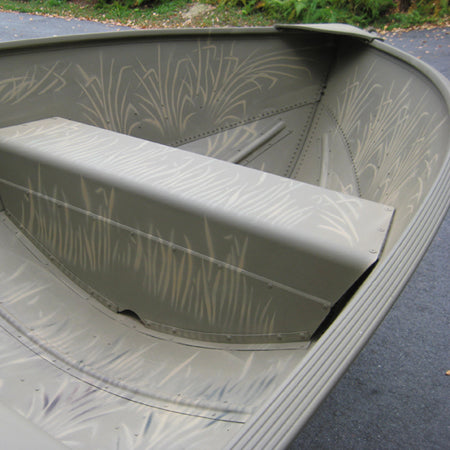 Marsh Grass Camo Stencil Kit
The marsh grass camo stencil kit includes everything needed to camouflage stencil a duck boat, blind, truck, burlap sheet, wood, stool or other material.
The kit includes 5 different sizes and styles of marsh grass to fit most panels, seats, sides and transoms of a boat or truck. These include:
1)17" high x 11" wide sheet
2)17" high x 14" wide sheet
3)17" high x 5" wide sheet
4)17" high x 7" wide sheet
5)14" high x 36" wide sheet
All stencils can be used alone or in combination to vary the grass sizes and repeats; or create a uniform look.
Depending on your application, we suggest you strongly consider the adhesive-backed material. This durable adhesive-backed plastic stencil can be reused many times and is ideal for firmly sticking the stencil to boats and other uneven surfaces. We also suggest you use 2" painters tape around the edge of the stencil to minimize overspray. Compare our price! Cabelas sells one sheet of 11"x17" plastic (not even adhesive backed) for $19.99 or a 24"x36" piece for $69.99. Mack's Praire Wing sells one sheet of 12"x20" plastic for $29.99. Our marsh grass 5-piece kit sells for $46.00 to $59.80. (order 2 or other camo patterns to get free shipping at $99.) Choose from any of our durable reusable plastics. 7.5 mil, 10 mil, 14 mil or adhesive backed 7.5 mil.
Stencil Ease manufactures the camo stencil and ships to you in 1-2 days. If you need larger pieces just email us with your requested size and we will email within 24 - 48 hours with a price. Click here for more camo patterns
Below is a quick slide show with step by step photos of a duck boat being stenciled with the marsh grass camo stencil kit.