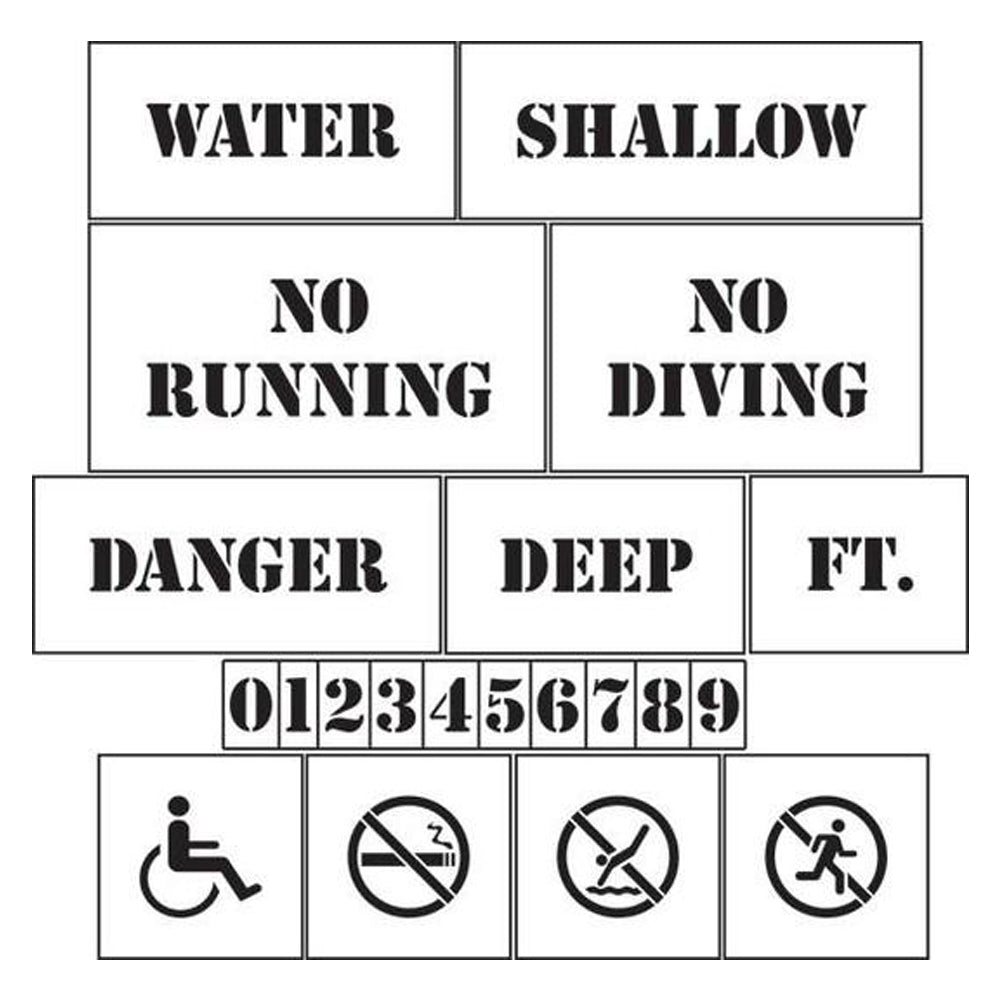 Pool Area Marking Stencils Kit
The Stencil Ease Pool Area Marking Kit comes with everything needed to mark a swimming pool area. These swimming pool stencils are made from durable, reusable LLDPE plastic. They can be cleaned and reused many times and each stencil in this kit typically includes extra material around the artwork for prevention of over spray.
We suggest that you consult an expert for information on what types of paints to use for when painting pools or pool areas.
This kit contains the following items:
1) 4 inch Number Set with numbers 0-9 in Arial style
2) 4 inch WATER stencil
3) 4 inch SHALLOW stencil
4) 4 inch NO RUNNING stencil
5) 4 inch NO DIVING stencil
6) 4 inch DANGER stencil
7) 4 inch DEEP stencil
8) 4 inch FT. stencil
9) 9 inch NO Smoking symbol stencil
10) 9 inch NO Diving symbol stencil
11) 9 inch NO Running symbol stencil
12) 9 inch Handicap symbol stencil
All of our stencils are made from LLDPE. This material is extremely durable, will relax and lay flat quickly, and is very easy to clean. The 1/8th inch is preferred by contractors and is more rigid then the 1/16th inch. The 1/16th is excellent for less frequent use. Both can be used and cleaned hundreds of times.
How to get the most from your new Poll and Spa Stencils: Stencil Cleaning & Care