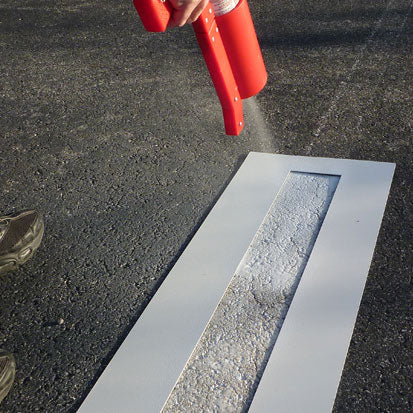 Stop Bar Stencil

This stencil will allow you to install and maintain crisp, clean, regulation Stop Bar lines. As many as you need and on your own schedule. This is a great use of laser-cut stencils. A durable, simple, and cost-effective solution.
Size:

12" wide x 108" long (comes on 20" x 119" sheet) standard for stop bars
Tough Contractor Grade Stencils:
• All offered in super durable 1/8th inch and 1/16th LLDPE plastic.
• Tough flexible, lays flat and lasts for hundreds of uses.
• This material will tend to shed paint and is easy to clean.
• Perfect for contractors, professionals, and anyone who wants the best.
How to get the most from your new Parking Lot Stencil: Stencil Cleaning & Care
Custom Letter Size Stencils 1 to 48 inch

Please use our Custom Stencil Maker to create your custom stencil or click here to send us your requirements.
Stenciling Tools
Get the job done right with these proven stencil tools:
• Krylon Striping Paint
• Inverted Spray Paint Marking Wand
• Frog Painters Tape

Material Selection Guide
Click here for more material information


How to Stencil
Visit our library of Video Tutorials for more detailed instructions and how-to videos.