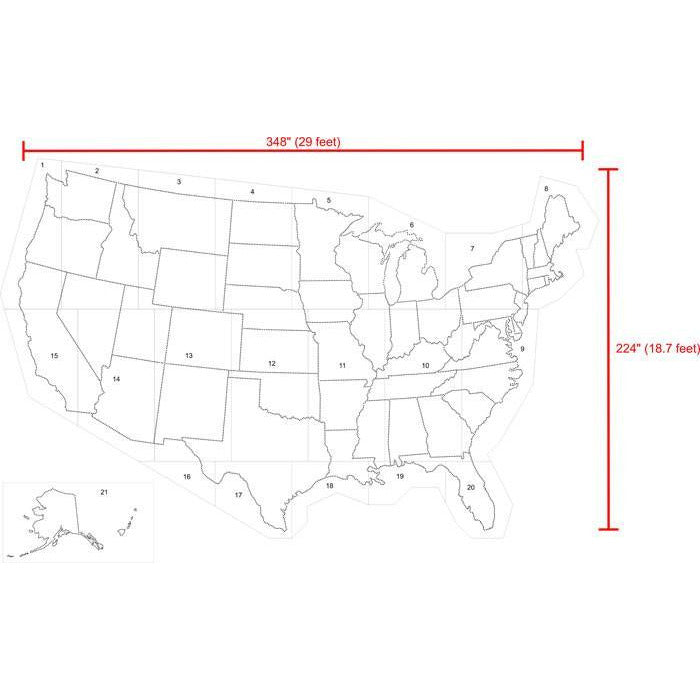 US Map | United States Map Playground Stencil
The US Map Stencil is easy-to-use and is cut on durable reusable 60 mil (1/16 inch thick) plastic LLDPE stencil material. The actual artwork dimensions of the map are 29 ft wide x 18.7 feet high(not including AK and HI).
Alaska and Hawaii are scaled down for this US Map and are cut on 48" x 96" sheets of 1/16" thick material.
A Map Stencil project can be a fun and educational activity to use in a classroom, at home, on a playground, or in any setting. Indoor projects can be completed with inks, chalks, craft paints or any latex paint. Outdoor surfaces can be sprayed with marking paint, landscape chalk, striping paint, concrete paint or concrete stain.
NOTE: Due to the amount of labor and packaging required, these large map stencils are NOT returnable. Ships via UPS in 3 oversize boxes and weighs 151 pounds.
All of our stencils are made from LLDPE. This material is extremely durable, will relax and lay flat quickly, and is very easy to clean. The 1/8th inch is preferred by contractors and is more rigid than the 1/16th inch. The 1/16th is excellent for less frequent use. Both can be used and cleaned hundreds of times.