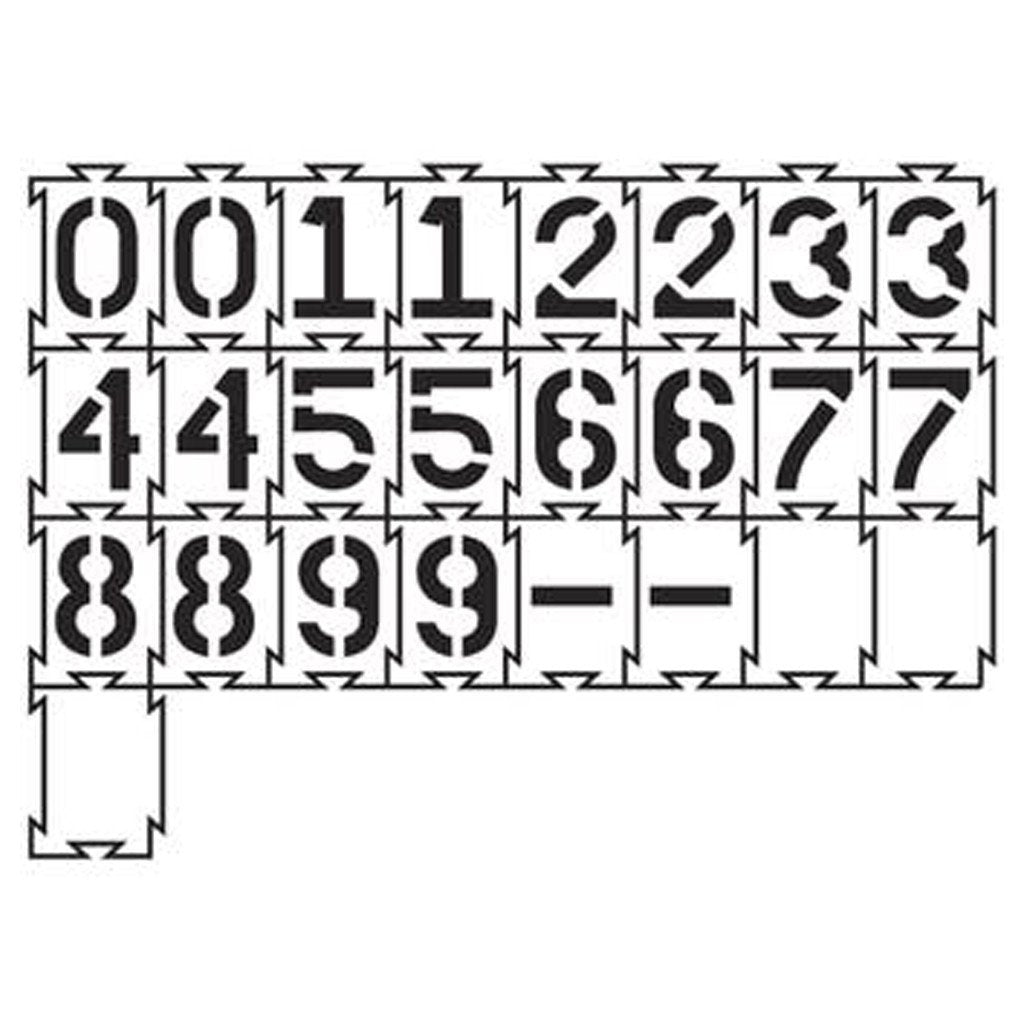 Quadra-Lock Number Stencils
Quadra-Lock™ Interlocking Number Stencils
Number sets (3" - 17") come with 25 pieces that include two each of 0-9, two dashes, and three spacers.
Number sets (18" to 36") come with ONE of each
All pieces interlock (horizontally & vertically) to form number sets. The interlocking system allows for pre-spacing of the numbers.

All Quadra-Lock™ stencil sets are only sold on our industrial grade material. Sizes 3"-7" are available on 40-mil. Sizes 5"-36" are available on 1/16" thick (60-mil) LLDPE material and our 1/8th Inch ( 125 mil) LLDPE material. Both the 1/16th inch and the 1/8th inch material is only suitable for spray paint applications
Please see important instructions here: Quadra-Lock Instructions
Tough contractor grade stencils:
• All offered in super durable 1/8th", 1/16th LLDPE, and 1/25th" (40 mil) plastic.
• Tough flexible lays flat and lasts for hundreds of uses.
• This material will tend to shed paint and is easy to clean.
• Perfect for contractors, professionals, and anyone who wants the best.
Our parking stencils are perfect for line stripers and the facilities managers. We can support you with any stencil that you need, We are happy to work with architects prints or to confirm regulatory standards in your municipality. While we likely already have the stencil you need we also have the ability to provide you exactly what you need. Our team can design, make and ship in a day if necessary.
Personalized parking spaces are becoming more popular and we can provide the stencils for any need. Please use our easy custom app to get your stencils fast.
Our stencils are always in stock and can be available for the next day if necessary. Our customer service is ready to take your call and make sure you are taken care of.
Order or call today.
Click here for more material information
NOTE: Most painting contractors order 1/8" thick material if they plan on reusing the stencil for years. The 1/16" is fine for occasional use. Both are great products that have been in the field for years.
If you need a size that is not listed please call us at 1-800-334-1776 or email service@stencilease.com